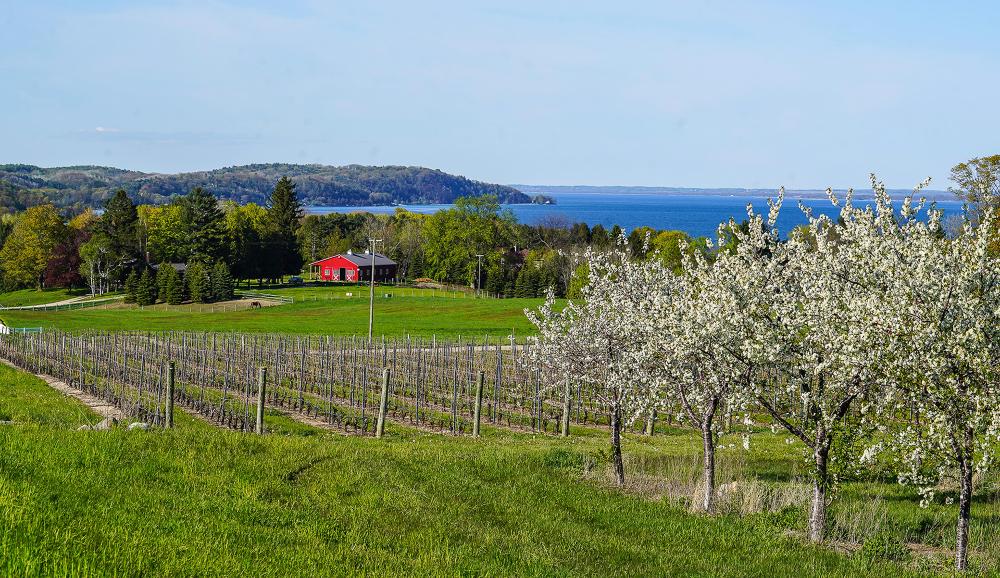 On the second day of Paint Grand Traverse, artists will explore the orchards, vineyards, farms, and vistas of beautiful Old Mission Peninsula. Old Mission Peninsula is located just north of downtown Traverse City, and bisects Grand Traverse Bay. Spectators are encouraged to watch the artists work!
Bonobo Winery
Bonobo Winery offers artists amazing views of vineyards, orchards, and West Grand Traverse Bay. Its gorgeous, second-story patio is the perfect place to watch the artists work, enjoy a glass of wine, and Bonobo's specially curated small plates. Tasting room opens at 11:00am.
Grey Hare Inn
The Grey Hare Inn Bed and Breakfast is an elegant country vineyard estate located on Old Mission Peninsula in the heart of scenic wine country. Relax on the trellised patios while embracing the sublime quiet of rural Traverse City's grape growing region, and watch our featured artists capture the magic. View Grey Hare Inn virtual tour.
Chateau Chantal
One of the first vineyards on Old Mission Peninsula, Chateau Chantal features a beautiful, art-themed bed and breakfast, expansive patio, and cellar tours. From the Chateau's perch, artists will have views of both East and West Grand Traverse Bays. View image gallery. Tasting room opens at 11:00am.
---
How to Purchase Paint Grand Traverse Artwork
If you see a painting in progress that you just have to have, be sure to grab a ticket to the Paint Grand Traverse Gala on Saturday, August 18! The Gala is your one and only chance to view and shop the artwork created during the week of Paint Grand Traverse. Tickets $20 ($50 for a special preview hour), and go on sale June 1. Buy tickets.
---
Who's Painting Where on Tuesday - Daytime
Artists have the option to work at multiple locations during a day and do not have a set schedule, but here's our best guess on where you can catch your favorites!
Bonobo Winery
Elizabeth Pollie
Carol Strock Wasson
Cal Kemppainen
Jill Wagner
Debra Joy Groesser
Sharon Will
Margie Guyot
Brian Sindler
Kevin Barton
Kevin Menck
Bob Perrish
Kathie Wheeler
Kristin Hosbein
Kurt Anderson
Joe Anna Arnett

Grey Hare Inn
Louise Pond
Barbara Reich
Sheila Wissner
TJ Lick
Adam VanHouten
Brian Goff
Alan Maciag
Aimee Erickson
Denise Dunn
Cedar Kindy
Susan Lynn
John Caggiano
Suzie Baker

Chateau Chantal
Troy Kilgore
Kathleen Kalinowski
Colleen Shull
Joani Braun
Gary Cooley
Jane Ditri
Bill Suys
Chuck Marshall
Lyn Boyer
Jim DeWildt
Justin Shull
Mark Shasha
Lori Feldpausch
Rick Koehler
Kathleen Hudson