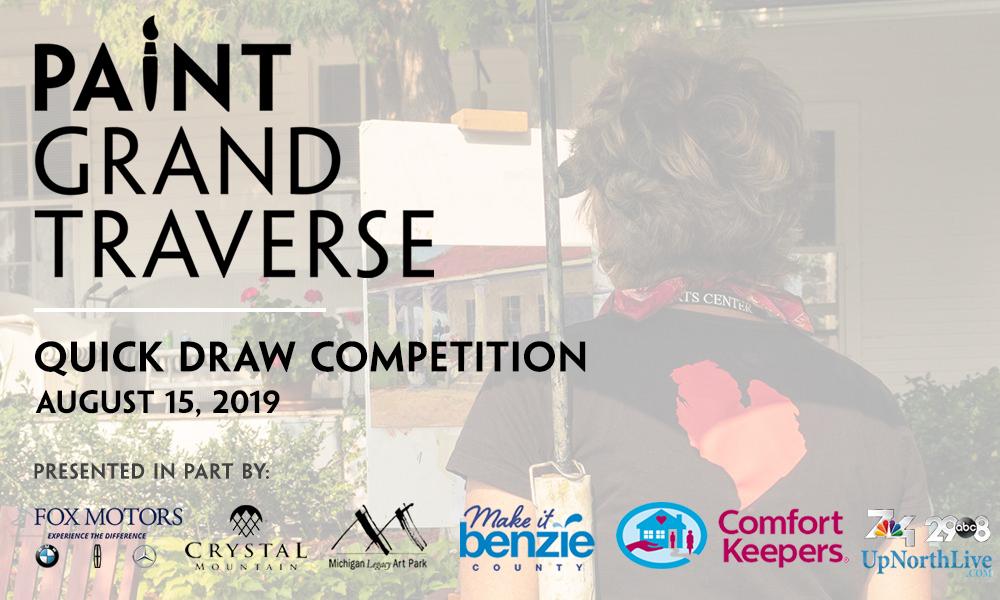 A great event for spectators! A Quick Draw is an exciting, two-hour competition for plein air painters working on location. 100 artists will compete for cash awards, and the competition will be immediately followed by a quick sale! Browse and buy fresh, new paintings by area artists as well as artists from across the country!
This year's event will be held at Crystal Mountain and the Michigan Legacy Art Park, and free chairlift rides are sponsored by Make it Benzie County!
Event Program
1:00-3:00pm: artist check-in
1:30-2:30pm: Painting activity for kids and families (pre-registration required, see below)
2:00-6:00pm: free chairlift rides sponsored by Make It Benzie County!
3:00-5:00pm: watch artists painting live at select areas throughout Crystal Mountain and the Michigan Legacy Art Park, and enjoy free chairlift rides courtesy of Make It Benzie County.
5:00-6:30pm: live music and refreshments
6:30pm: awards presentation
6:45-8:30pm: quick sale
---
Painting Activity for Kids
Children of all ages and their parents can take part in their own paint out. Join the Crooked Tree Art Center and Crystal Mountain in creating a unique watercolor landscape. Held on the Lodge Lawn at Crystal Mountain, near the Crystal Clipper from 1:30-2:30pm.
$10 per person includes design and all materials.
Space is limited. Register at the Park at Water's Edge 888-968-7686 ext. 7000.
---
Artist Registration
Registration is now closed!
---
Awards and Competition Rules
Who will participate: the invited featured artists, and open division artists who have pre-registered (beginning March 1). The field will total approximately 100 artists.
Number of pieces: 1
Painting time: 2 hours
Artwork specifications:
Canvas/paper will be stamped at check-in.
Pieces on paper should be matted. Pieces on board or canvas do not need to be framed. (Piece must be able to stand on a table-top easel.)
Maximum size: 24" on longest side.
All painting media are welcome.
Paintings must begin on a blank white or toned background.
Artwork must be signed.
Work must be created solely by the artist and done completely from life.
Work must remain on display until the conclusion of the event.
Pick up: unsold works must picked up on-site, immediately following the event. Abandoned artwork will become property of Crooked Tree Arts Center.
Sale event: an awards presentation and quick sale will immediately follow. This event is free and open to the public.
Sales:
Artists set the prices. Crooked Tree Arts Center will retain a 40% commission. The minimum retail price is $200.
CTAC staff will process sales; checks will be mailed to artists on or before September 16, 2019.
Prices are non-negotiable.
Selling artwork outside of the Paint Grand Traverse event is discouraged and contrary to the spirit of the event.
Awards:
All participating artists: $500 Best of Show
PGT featured artists: $500 first place; $250 second place; (6) honorable mentions valued at $100 each.
Open division: $250 first place; (6) honorable mentions valued at $100 each.
---
Awards Juror
Art Martin,
Director of Collections and Exhibitions/Senior Curator for the Muskegon Museum of Art

In this role, he has organized over 50 exhibitions featuring the work of national, international, and Michigan artists and produced several catalogues on Michigan artists, including Joseph Grey II and Sarah Wagner. Martin was the organizing curator for the nationally traveling exhibitions Innovators and Legends: Generations in Textiles and Fibers; Extreme Fibers: Textile Icons and the New Edge; Circular Abstractions (Bull's Eye Quilts); Southern Roots: The Paintings of Winfred Rembert; and Rising Voices: The Bennett Prize for Women Figurative Realist Painters. He holds a BFA in painting from Drake University and a MFA in painting from Wichita State University. Martin has overseen the MMA's annual juried exhibition for over a decade, and juried several regional and national exhibitions, including the Grand Rapids Festival, The Bennett Prize, Quilt National, and Fiber Art Now's Excellence in Fibers.
---
Quick Draw Hosted and Presented in Part by:
Paint Grand Traverse Presenting Sponsors: