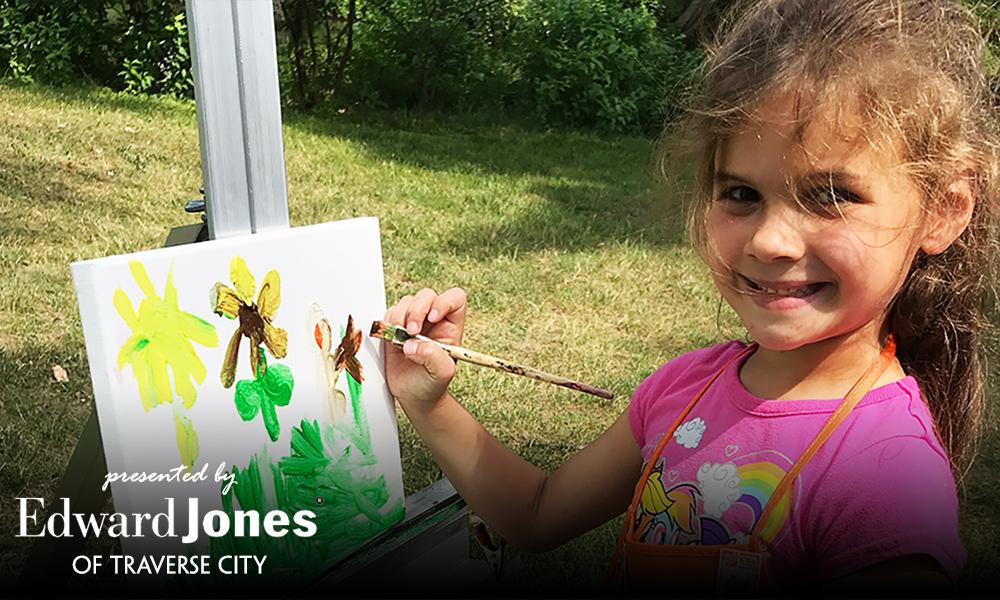 A favorite Paint Grand Traverse event, the Pint-Sized Paint Out lets kids get in on the plein air painting fun! This year's event will be VIRTUAL, with artists free to capture their favorite scenery (or even their own backyards!) and submit pictures of their paintings to our online gallery. Six cash prizes will be awarded to artists ages 0-15.

The Virtual Pint-Sized Paint Out is presented with support from Edward Jones of Traverse City. Thank you, Edward Jones!
Here's how it works:
1) Complete the online registration form 
2) Gather your paints and supplies or purchase a Gouache Art Kit (see below) and paint outdoor scenes, August 8-August 16.
3) Take a digital photo of you painting, and your best finished painting and upload them to our online gallery. The online exhibit will run August 17-September 12.
Purchase an Gouache Art Kit from CTAC (optional)
We've put together a special Gouache Art Kit to introduce young artists to the exciting painting medium of gouache (rhymes with "squash"). Gouache is an opaque watercolor paint. Whereas traditional watercolors let the white of the paper show through, gouache paint can be applied in solid colors, which allows the artist to paint in layers. Gouache offers a crisp, matte look that photographs well, and is becoming increasingly popular. 

Gouache Art Kits ($20) will be available for purchase starting Monday, August 3 at both CTAC locations in Traverse City and Petoskey. To reserve an kit or have one shipped to you, please call 231-941-9488. A limited number of kits will be available, so order yours day!
Gouache Art Kits include:
Turner Acryl Gouache Paint set (6 colors)
Paint Brushes (3) - assorted sizes 
Cold Press Watercolor paper - assorted sizes
Masonite board 
Re-Usable Paint Palette
Paper Color Mixing Wheel 
A video link - Unboxing and Getting Started with Your Art Supplies
A video link - Introduction to Gouache and Plein Air Painting by 2019 PGT artist, Heather Ihn Martin
Not included in the kit: water container, removeable tape to adhere paper to masonite board (blue painters tape works great)
Gouache Artist Heather Ihn Martin
Your Gouache Art Kit includes a link to an exclusive instructional video by artist Heather Ihn Martin. Heather was raised in rural Michigan, and has been creating artwork since she could hold a pencil.

After graduating with her BFA, she spent years working as an illustrator, followed by nearly a decade as a game artist in the mobile gaming industry. In 2016, Heather was re-introduced to traditional media and fell in love with gouache. With gouache, she is able to capture the fleeting light and essence of a scene, while maintaining a crucial sense of spontaneity and energy. While Heather paints several types of subjects, she particularly enjoys the challenges of plein-air painting.

In 2018, Heather made the decision to depart from the gaming industry to pursue a fine art career. Her work has received numerous awards and global recognition.

Crooked Tree Arts Center featured Heather at Paint Grand Traverse 2019, where she was one of the top-selling artists. Traverse City locals can currently see her wonderful artwork reproduced on a very large banner across from Mackinaw Brewing on Front Street.