Paint Grand Traverse is an annual plein air painting festival and competition, presented by Crooked Tree Arts Center and located in Traverse City, Michigan. We're looking forward to connecting talented plein air painters, art fans, and collectors this August!
Originating in 2017, Paint Grand Traverse has traditionally been an eight-day event featuring top artists from across the country. Event highlights include the Quick Paint Competition, Pint-Sized Paint Out for Kids, live painting demonstrations and workshop, and the Collectors Gala & Benefit. In August 2020, we presented Paint Grand Traverse: Virtually Beautiful, a hybrid in-person and online event, adapted for the COVID-19 pandemic.
PGT 2021 Dates
We are pleased to announce that planning for PGT 2021 is underway! Due to the COVID-19 pandemic and changing public health situation, we have a "Plan A" (similar to the 2018 and 2019 events) and a "Plan B" (similar to the 2020 event). We will announce a plan on June 1, based on guidance from state and local health departments. 
---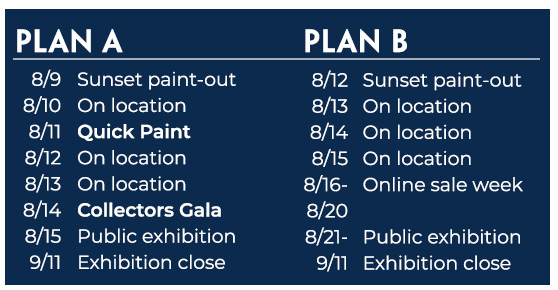 WHAT IS PLEIN AIR PAINTING?
From the French en plein air, or "in open air", plein air artists work outside, in natural lighting conditions, capturing the ephemeral atmospheric and lighting conditions.
THE LOCATION
The Grand Traverse region is located in northwest lower Michigan, and is known the world over for its gorgeous scenery, hundreds of miles of Lake Michigan coast, and historic small towns and villages. The largest of these, Traverse City, is nestled on the southern shore of West Grand Traverse Bay, and is home to Crooked Tree Arts Center - Traverse City.
WHO ARE THE ARTISTS?
PGT features artists from across the country, who come via invitation and a competitive application process. Join the Crooked Tree email list to be notified when the application for PGT 2022 is available. The application for PGT 2021 is now closed.
PAINT GRAND TRAVERSE ON SOCIAL MEDIA